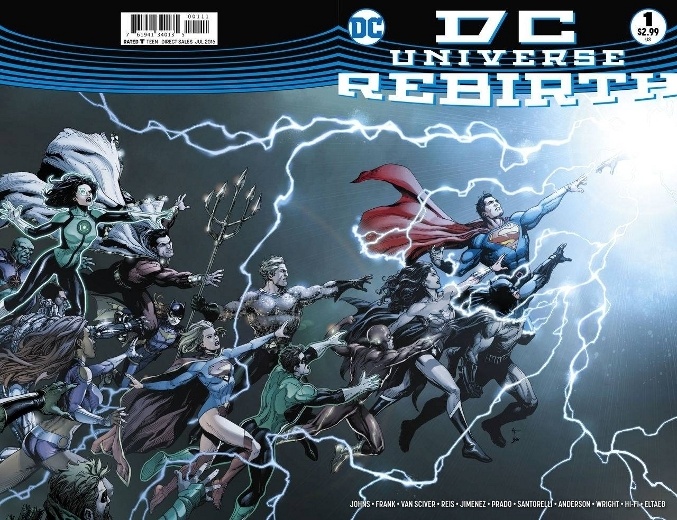 Two words… Rebirth! Okay, maybe its not two words, but its been awesome and worth saying two times! DC's Rebirth may seem like just another comic "reboot" for DC. This isn't the first time something like this was done, i.e. "The New 52". Still, the writing has been impressive and the direction that they're taking is interesting. Without giving too many spoilers, in the wake of the Darkseid War that happened in Justice League we find out that something has been wrong. Something before "The New 52" going back to "Flashpoint". Some entity is messing with the DC universe's continunity and I like where it's going.
I haven't COLLECTED comics in a while. I still bought books from time to time, but I stopped trying to preserve them. I was burned out since the comic market became so saturated with alternative covers and such during the 90's. After I finished reading a comic, I'd just roll them up or throw them in a sack. Rebirth has got me putting books in bags with backboards and going to the comic shop once a week instead of once in two months.
The Rebirth special had a $2.99 cover price and is already selling for between $9 and $15 online and in the comic stores…if they have any copies at all.
My buddy Loose and I were talking about this story arc and how Marvel got the press going crazy with the controversy surrounding the new Captain America (I haven't read it yet, something about Cap being a Hydra agent). he thought that Marvel did that on purpose to try to steal DCs thunder away from REBIRTH. I laughed about that idea…but who knows, maybe he's right. What do you think?
Are you reading REBIRTH? What do you think? If you like DC comics like Batman or Justice League, I suggestion reading the REBIRTH story arc.